| | |
| --- | --- |
| | Hoo WinTail |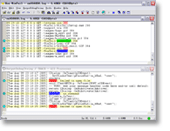 Hoo WinTail is a real-time log monitor and log viewer for Windows like the UNIX tail -f utility. It could be used to view the end of a growing file. It is ideal for viewing application traces or server log in real-time. You can view the last part of a large file quickly without the need to load the entire file. Hoo WinTail could capture and display OutputDebugString (Windows debugging API) output as well.
Hoo WinTail has many excellent features for debugging program and system administration: highlight filters, include and exclude filters, regular expression for filters, monitor multiple log files, bookmarks support, minimize to systray and flash systray icon to indicate new lines written and so on.
Hoo WinTail is a file viewer only. It makes no changes to log files. It opens log files in read-only mode. When new lines are written to log file by other programs (e.g. your applications or web server), Hoo WinTail reads the new lines and displays them.
Hoo WinTail has an attractive and intuitive MDI and tabbed interface. You could monitor and view multiple log files and capture OutputDebugString output at the same time.

A Tail Utility for Windows with Many Great Features! Try It Now!

Free Download Hoo WinTail
Top 10 Benefits of Hoo WinTail
Monitor your application log, IIS log, Exchange Server log, FTP Server log, and so on



Hoo WinTail monitors log files and displays the last part of them. It supports all kinds of log files. You also can monitor multiple log files at the same time.

Capture and display OutputDebugString output



It's very useful for debugging program. OutputDebugString is a Windows debugging API. You can call it in all kinds of programming languages (VC/VB/C++ Builder/Delphi).

Highlight phrase with text color and background color



Let you easy to see some phrases you concern. You could enter a regular expression and then highlight it. It's possible to show different text instead the match phrase.

Send notification emails for specific highlight phrases occurrence



This feature is very valuable for administrators and security personnel. Administrators can watch for known problem "phrases" in various log files and notify the support personnel if they occur. Security personnel can watch for known issues in various log files (e.g. firewall log) and notify the proper people if suspicious activity is noted.

Write the line that includes designated highlight phrase to a specified file



If you want to monitor a server log to extract the information that was generated by a specific IP address you can just set that IP address up as a "watch phrase" and all activity for that IP address would be extracted to the specified file.

Include and exclude filters


It's very useful to filter content that you don't want to see. The regular expression is supported.

Send a notification email if a file stops updating


If your applications write to log files regularly, the software will notify you by email if a log is no longer being written on.

Open a batch of files on one click


Hoo WinTail supports file sets. The feature allows user to open a batch files just one one click.

Easy to see new log data generated



Hoo WinTail will draw a red line to separate new text lines from old text lines when new data was captured and document is inactive or Hoo WinTail loses focus.

DOS, UNIX and Unicode format log support



If you have these format logs you can monitor them using Hoo WinTail conveniently.
Hoo WinTail Key Features
Monitor log files and display the last part of them in real-time
Capture and display OutputDebugString output in real-time
Tabbed Interface
Highlight filters support
Save document as a HTML file with highlight color
Show highlight filter as different text
Send notification emails for designated highlight phrases occurrence
Write the line that includes specified highlight phrase to a specified file
Include/Exclude filters support
Support regular expression on Highlight filter and Include/Exclude filters
Monitor a folder and open file automatically when new file is created
Support file set that opens multiple files by one click
Send a notification email if a file stops updating
Draw a red line to separate new text lines from old text lines
MDI interface - Monitor multiple log files and capture OutputDebugString output at the same time
Minimize to systray and flash systray icon to indicate new lines written
Bookmarks & Number Bookmarks support
Indicate file size in window title bar
Cut/Copy/Past/Delete displayed text arbitrarily, but make no changes to the monitored log files
Refresh rate can be customized
Text search support
Display font can be customized
Display buffer size can be customized
Support mass file (up to 100GB)
Support DOS, UNIX and Unicode format log files
Drag & drop support
Command line support

Free Download Hoo WinTail
Hoo Win Tail v4.2 build 986

Adds an option to enable or disable an include/exclude filter
Fixes bugs

Hoo Win Tail v4.2 build 982

Adds option to show customized text instead of the highlight phrase
Adds option to limit max length of tab text
Adds feature "Go to Line"
Adds new command line argument "-l line_number" that enables Hoo WinTail locates to specified line when opening documents
Save current document or all documents to a web page with highlight color
Adds option "Ignore filters that enable 'Show as' or 'Highlight entire line' when clicking 'Next Highlight' or 'Previous Highlight'"
Fixes bugs

Hoo Win Tail v4.1 build 952

Supports suppression period of file stop updating notifications
Monitors a folder and opens file automatically when new file is created
Captures OutputDebugString on startup
Fixes bugs

Hoo Win Tail v4.0 build 929

Improves importing highlight, include, and exclude filters
Sends notification email via Secure Sockets Layer (SSL)
Saves output of "Capture OutputDebugString" to a file at the same time it's coming on the screen
Enables to set alias for a tab
Supports file set on command line
Improves display of "Previous Highlight", "Next Highlight", "Find Previous", "Find Next", and so on
Supports regular expression in highlight filter
Supports regular expression in include and exclude filter
Fixes bugs

Hoo Win Tail v3.6 build 769

Supports file sets
Sends a notification email if a file stops updating
Supports to save all documents to a file
Fixes bugs

Hoo Win Tail v3.4 build 737

Improves filtering efficiency
Adds option "Select text between a couple of characters in a line when double-click or Ctrl+click"
Adds option "Copy to clipboard automatically when any text is selected"
Adds option "Monitor file changes automatically when opening a file"
Improves highlight filters editing
Improves include and exclude filters editing
Adds import and export of highlight filters
Adds import and export of include and exclude filters
Fixes bugs

Hoo Win Tail v3.4 build 719

Added option "Force polling"
Added option "Stop polling when vertical scrolling up"
Added option "Stop polling when horizontal scrolling right"
Added option "Stop polling when moving caret to other position instead of end of document"
Added option "Highlight entire line with same text and background colors for highlight phrase"
Added option "Attach previous N lines when sending notification email of highlight phrase occurring"

Hoo Win Tail v3.4 build 707

Added option "Draw invert background and text color for selected text"
Added options to customize scrolling lines for mouse wheel
Added options to customize scrolling columns for mouse wheel (press Ctrl and roll mouse wheel)
Added option "Display clock in status bar"
Stops polling if user scrolls up log file or move caret; "Go to end" could restart polling
Fixed bugs

Hoo Win Tail v3.4 build 661

Support to enable/disable a highlight filter
Support to customize tab size
Added command "Save As"
Added more shortcuts
Support mass file (>4GB)
Fixed bugs

Hoo Win Tail v3.4 build 609

Added option "Only one instance"
Added option "Associate with .log file"
Added option "On startup arrange re-opened file"
Added option "Clear window when opening a file"
Added option "Clear windows when re-opening files on startup"
Remember position of document window
Support to configure editors based on file extension
Fixed a bug

Hoo Win Tail v3.4 build 589

Added highlight filter option "Execute a program while filter phrase occurs"
Added highlight filter option "Actions are only available for special file"
Fixed a bug

Hoo Win Tail v3.4 build 578

Added highlight filter option "Print matched line to the default printer while filter phrase occurs"
Enabled printing selection
Fixed a bug

Hoo Win Tail v3.4 build 572

Draw a red line to separate new lines from old lines when document is inactive or Hoo Win Tail loses focus
Added commands "Disable Flash" and "Enable Flash"
Added quick tour
Fixed several bugs

Hoo Win Tail v3.4 build 561

Added Tabbed interface
Double-click in left column toggles bookmark
Improved text viewer
Added command "Start All" and "Pause All"
Added command "Browse Log File Folder"
Added command "Goto End of All Documents"
Added command "Truncate Log"
Added an option "Display full path name of log file in window caption"
Added command "Open More Recent Files"
Changed number of the last opened files up to 50
Added command "Clear All Open Windows"
Added command "Reload All Documents"
Fixed a bug

Hoo Win Tail v3.3

Added include/exclude filters
Enhanced command line arguments, support to capture OutputDebugString output and opening multiple files in command line
Fixed a display bug

Hoo Win Tail v3.2

Added function sending notification emails for specified highlight phrases
Added function writing the line that includes specified highlight phrase to a specified file
Support hotkey
Added more keyboard shortcuts
Fixed two bugs

Hoo Win Tail v3.1

Added function minimizing to system tray
Added function opening the last opened several files automatically when startup
Added function "Tile Horizontally as Full Width"
Added function "Tile Vertically as Full Height"
Fixed a bug

Hoo Win Tail v3.0

Added MDI Interface - Monitor multiple log files and captures OutputDebugString output at the same time
Owner programming text display Editor that will be more efficiently than past RichEditCtrl
Support bookmarks & number bookmarks
Fixed a bug