Video to Picture Image Converter
Video to Picture Image Converter
Version: 2.3 build 1487
Release: 30 January, 2013
Size: 10.7 MB
OS: Windows 8 / 7 / Vista / 2008 / XP / 2003 / 2000 (both 32-bit and 64-bit editions compatible)
| | |
| --- | --- |
| | Video to Picture Image Converter |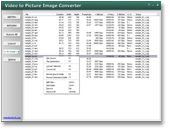 Video to Picture Image Converter converts video to picture or image sequence frame-by-frame. The software supports 80 video formats including 3GP, 3GP2, ASF, DAT, DivX, DVR-MS, EVO, FLV, H.263, H.264, M4V, MKV, MOV, MP4, MPG, OGV, RM, VOB, WebM, WMV, Xvid, and so on. The software saves picture files as BMP, JPG/JPEG, PCX, PGM, PNG, PPM, SGI, TGA, and TIFF image formats.
With the converter, you could set frame rate that controls how many picture frames to be converted per second. You can also set output picture resolution to same as original video or any other width and height. The software offers other useful features including rotate picture by 90 degrees clockwise or counterclockwise, flip picture horizontally or vertically, crop pictures, and deinterlace pictures, and so on. And, you can specify conversion beginning and end point instead of the entire video.
Once you get the frame-by-frame picture/image frame from video clips, you could choose the best picture/image for editing, emailing, printing out, or putting on blog or websites.
The Video to Picture Image Converter not only extracts picture or image from video clips, but also convert video to different video formats, portable devices (iPhone, iPad, Android, BlackBerry, etc.), and audio formats (MP3, AAC, AIFF, FLAC, M4A, OGG Vorbis, WAV, WMA, etc.)
Video to Picture Image Converter is very easy to use. It supports batch conversion. You can convert a lot of files in a few clicks. And, it is full compatible with both 32 bit and 64 bit editions Vista, Windows 7, and Windows 8.

Capture/Get/Take Still Picture/Image Frame from Video Clips! Try It Now!

Free Download Video to Picture Image Converter
Why Use Video to Picture Image Converter to Capture Picture from Video Instead of key "Print Screen"?

You know when pressing key "Print Screen" (often abbreviated Prt Scr, refer to the right figure) Windows takes a snapshot or picture of your computer screen and copies it to the clipboard. You will get the picture when you paste on Paint. It's an easy and effective way to get screen image. However, when the image screenshot from clipboard is pasted into an image editor such as Paint (Start -> All Programs -> Accessories -> Paint), the capture is a black blank screen instead of the actual video.
Why is that? When the video plays, it is actually displayed on a different surface/layer called overlay that is produced by hardware acceleration. When you take a normal screen capture, you're taking it of the normal surface where the video isn't displayed. That's why it comes out black as it is invisible to the screen capture software.
The Video to Picture Image Converter is a professional video to picture conversion software that captures every frame of video and then save to still picture/image file such as JPG, BMP, PNG, TIFF, etc. After conversion, you will get an image sequence, and then you could easily choose the best picture from the sequence.
About Picture/Image Formats
BMP (lossless, uncompressed, big file): bitmap image file or Device Independent Bitmap (DIB) file format, is a raster graphics image file format used to store bitmap digital images, independently of the display device.
JPG/JPEG (lossy, compressed, small file): Joint Photographic Experts Group, a commonly used method of lossy compression for digital photography (image); JPEG typically achieves 10:1 compression with little perceptible loss in image quality.
PCX (lossless, compressed, bigger than PNG): Personal Computer eXchange, the native file format for PC Paintbrush and became one of the first widely accepted DOS imaging standards.
PGM (lossy, uncompressed, big file): Portable GrayMap Format, a lowest common denominator grayscale file format. It is designed to be extremely easy to learn and write programs for.
PNG (lossless, compressed, small file, bigger than JPG sometimes): Portable Network Graphics, a bitmapped image format that employs lossless data compression. It was designed to replace GIF and TIFF formats. PNG does not require a patent license.
PPM (lossless, uncompressed, big file): Portable PixMap Format, supports full-color images. PPM is a convenient and simple method of saving image data. It is equally easy to read in ones own applications.
SGI (lossless, compressed, bigger than PNG): Silicon Graphics Image, the native raster graphics file format for Silicon Graphics workstations.
TGA (lossless, compressed, bigger than PNG): Truevision Graphics Adapter, a raster graphics file format created by Truevision Inc. It was the native format of TARGA and VISTA boards, which were the first graphic cards for IBM-compatible PCs to support Highcolor/truecolor display.
TIFF (lossless, compressed, middle file, bigger than PNG sometimes): Tagged Image File Format, a variable-resolution bitmapped image format. TIFF is very common for transporting color or gray-scale images into page layout applications.
| | |
| --- | --- |
| Input Files | 3G2, 3GP, 3GP2, 3GPP, 4XM, AAC, AC3, ADTS, ADX, AFC, AIF, AIFC, AIFF, ALAW, AMR, AMV, APE, ASF, AU, AVI, AWB, CAF, CDATA, CIF, DIF, DIVX, DNXHD, DRC, DTS, DV, DVD, DVR-MS, DXA, EAC3, FLAC, FLC, FLI, FLIC, FLV, FLX, GSM, GXF, H261, H263, H263+, H264, IT, KAR, M1A, M1V, M2A, M2T, M2TS, M2V, M4A, M4B, M4R, M4V, MID, MIDI, MJ2, MJPEG, MJPG, MKA, MKV, MLP, MLV, MMF, MO3, MOD, MOV, MP+, MP1, MP2, MP3, MP4, MPA, MPC, MPE, MPEG, MPG, MPGA, MPP, MPV, MTM, MTS, MTV, MVI, MXF, NSA, NSV, NUT, NUV, OGA, OGG, OGM, OGV, OGX, OMA, PSP, PSX, PVA, QCIF, QCP, QT, RA, RAM, RCV, RGB, RM, RMI, RMVB, ROQ, RPL, S3M, SDP, SHN, SMK, SND, SOL, SOX, SPX, STR, SWF, THD, TS, TTA, UMX, VC1, VFW, VID, VMD, VOB, VOC, VQF, W64, WAV, WAVE64, WM, WMA, WMD, WMV, WV, XA, XM, XVID, XWMV, Y4M, YUV |
| Output Image Files | BMP, JPG/JPEG, PCX, PGM, PNG, PPM, SGI, TGA, TIFF |
| Output Video Files | 3G2, 3GP, ASF, AVI, DivX, DV, FLV, H.264, M4V, MKV, MOV, MP4, MPG / MPEG, OGG, OGM, OGV, SWF, TS, VCD, VOB (DVD Video), WMV, WebM, Xvid |
| Output for Devices | Android, Apple TV, Archos, BlackBerry, Creative ZEN, iPad, iPhone, iPod touch, iRiver, PS3, PSP, Wii and DS, Xbox 360, Zune |
| Output Audio Files | AAC, AAC for iPod/iPhone/iPad/iTunes/DSi, AC3, AIFF, ALAC (Apple Lossless), AMR, AU, FLAC, M4A (MPEG-4 audio), M4B (MPEG-4 audiobook), M4R (iPhone ringtone), MKA, MMF, MP2, MP3, MPA, OGG (audio track), VOC, WAV, WMA |
Video to Picture Image Converter Key Features
Support 80 video formats
Save picture file as BMP, JPG/JPEG, PCX, PGM, PNG, PPM, SGI, TGA, and TIFF formats
Support to change frame rate
Output same resolution picture as original video
Support to customize output picture resolution
Rotate picture by 90 degrees clockwise or counterclockwise
flip picture horizontally or vertically
Crop pictures
Deinterlace pictures
Support to convert a part of video instead of the entire video clips
batch conversion
Compatible with Windows 7 and Vista

Free Download Video to Picture Image Converter
30 January, 2013 Video to Picture Image Converter v2.3 build 1487 released

Encodes JPEG, Motion JPEG, MPEG-4, and other codecs with VBR
Improves output image quality
Fixes bugs

17 August, 2012 Video to Picture Image Converter v2.2 build 1405 released

Converts DVD to image sequence
Upgrades conversion kernel
Fixes bugs

2 March, 2012 Video to Picture Image Converter v2.1 build 1259 released

Creates a separated directory for a video so that image sequence of the video will be outputted to an independent directory
Remembers output folders history
Supports multi-audio videos
Fixes bugs

12 January, 2012 Video to Picture Image Converter v2.0 build 1227 released

Extracts pictures as PCX, PGM, PPM, SGI, and TGA formats
Rotates picture
Flips picture
Converts video to different video format
Converts video to audio format
Fixes bugs

21 December, 2011 Video to Picture Image Converter v1.0 released