| | |
| --- | --- |
| | Getting Started with MIDI to MP3 Converter |
MIDI to MP3 Converter converts Convert MIDI/MID/RMI/KAR to MP3/WAV/WMA/OGG/AIFF/FLAC/AAC/MP4/M4A/M4B/M4R. It's an ALL-IN-ONE audio converter that supports more than 120 audio and video files. The software also supports batch conversion, and is full compatible with Windows 10/8/7/Vista/XP/2000.
Choose Files


Click "Add Files" button to choose files and add them to conversion list.


Choose one or more files you want to convert and then click Open.


Choose Target File Format


You can choose one of the following formats

to AAC
to AAC for iPod/iPhone/iPad/iTunes/DSi
to AC3
to AIFF
to ALAC (Apple Lossless)
to AMR
to AU
to CAF
to DTS
to FLAC
to M4A (MPEG-4 audio)
to M4B (MPEG-4 audiobook)
to M4R (iPhone ringtone)
to MKA
to MMF
to MP2
to MP3
to MP4 (audio track)
to MPA
to OGG
to VOC
to WAV
to WMA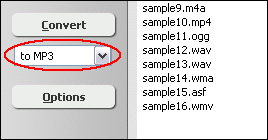 Convert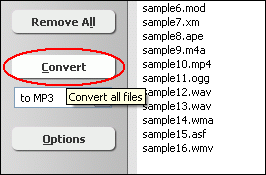 Click button "Convert" to convert all files into target format.




The software is converting files.


Play & Browse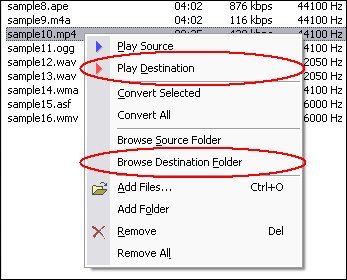 When conversion completes, you can right-click converted item and choose "Play Destination" to play the destination file; or choose "Browse Destination Folder" to open Windows Explorer to browse the destination file.

Top
---

Free Download MIDI to MP3 Converter
What is MIDI?
MIDI (Musical Instrument Digital Interface) is an industry-standard protocol defined in 1982 that enables electronic musical instruments such as keyboard controllers, computers, and other electronic equipment to communicate, control, and synchronize with each other. MIDI allows computers, synthesizers, MIDI controllers, sound cards, samplers and drum machines to control one another, and to exchange system data (acting as a raw data encapsulation method for sysex commands). MIDI does not transmit an audio signal or media. It transmits "event messages" such as the pitch and intensity of musical notes to play, control signals for parameters such as volume, vibrato and panning, cues, and clock signals to set the tempo. As an electronic protocol, it is notable for its widespread adoption throughout the industry.
All MIDI compatible controllers, musical instruments, and MIDI-compatible software follow the same MIDI 1.0 specification, and thus interpret any given MIDI message the same way, and so can communicate with and understand each other. MIDI composition and arrangement takes advantage of MIDI 1.0 and General MIDI (GM) technology to allow musical data files to be shared among many different files due to some incompatibility with various electronic instruments by using a standard, portable set of commands and parameters. Because the music is simply data rather than recorded audio waveforms, the data size of the files is quite small by comparison.
Related Topics: MIDI to AAC, MIDI to AMR, MIDI to M4A, MIDI to M4B, MIDI to MP4, MIDI to OGG, MIDI to WAV, MIDI to WMA, KAR to AAC, KAR to AMR, KAR to M4A, KAR to M4B, KAR to MP3, KAR to MP4, KAR to OGG, KAR to WAV, KAR to WMA, MID to AAC, MID to AMR, MID to M4A, MID to M4B, MID to MP3, MID to MP4, MID to OGG, MID to WAV, MID to WMA, RMI to AAC, RMI to AMR, RMI to M4A, RMI to M4B, RMI to MP3, RMI to MP4, RMI to OGG, RMI to WAV, RMI to WMA