WMA (Windows Media Audio) is an audio data compression technology developed by Microsoft. The name can be used to refer to its audio file format or its audio codecs. It is a proprietary technology that forms part of the Windows Media framework. WMA consists of four distinct codecs. The original WMA codec, known simply as WMA, was conceived as a competitor to the popular MP3 and RealAudio codecs. WMA Pro, a newer and more advanced codec, supports multichannel and high resolution audio. A lossless codec, WMA Lossless, compresses audio data without loss of audio fidelity (the regular WMA format is lossy). WMA Voice, targeted at voice content, applies compression using a range of low bit rates.
The WMA compression format creates relatively small audio files and require less processing power to execute. WMA includes security measures (DRM, or "digital rights management") that allow the publisher to restrict what you do with the file and has, until recently, been preferred by publishers. For smaller files and faster downloading use WMA files. You must have a PC to use these but most can now be played on iPods.
WMA is both an audio format and an audio codec. WMA was intended to be a competitor for the MP3 and RealAudio audio formats.
There are 4 versions of the WMA codec:
WMA is the original codec, and was initially released in 1999.
WMA Pro is an improved lossy codec intended for audio professionals, though it is limited by the current range of hardware and software needed to support the codec.
WMA Lossless is a lossless codec intended for archival and storage purposes. Using VBR, it can compress the audio file without any loss of quality.
WMA Voice is a lossy codec that was designed for low bandwith voice playback applications.

Burn WMA to CD with Windows Media Player
The easiest way to burn WMA to CD is using Windows Media Player. The WMP is built in Windows 7 and Windows 8. So you don't need to install extra software to burn WMA to CD.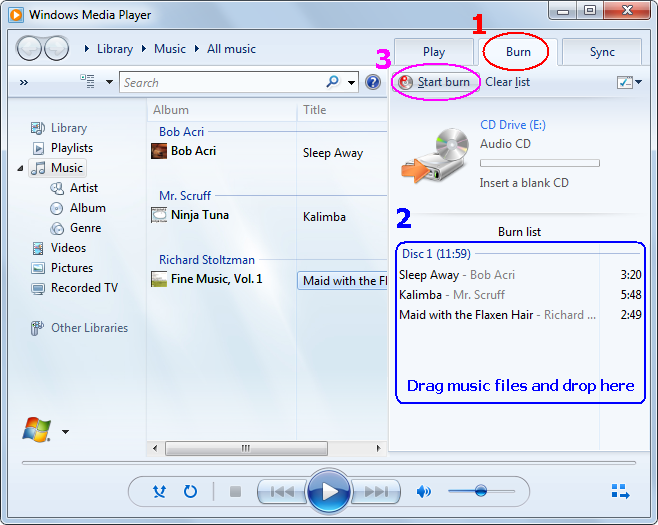 Launch Windows Media Player
Click "Burn" tab on top-right of Windows Media Player
Drag WMA files that you want to burn to CD, and drop on Burn list; you can also add WMAs in playlist to burn list
Insert a blank CD-R or CD-RW disc into CD-Writer Drive
Click "Start burn"
Done
Note: You need to make sure "Audio CD" is checked at Options before burning. Audio CD can be played in most computers and in home and car CD players that play CD-R and CD-RW discs. Refer to the following screen shot.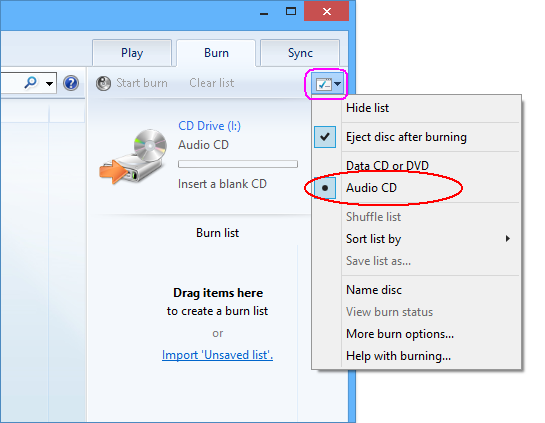 If your WMA file is DRM-protected, the Windows Media Player requirs license to play or burn the WMA file. Windows Media DRM is a Digital Rights Management service for the Windows Media platform. It is designed to provide delivery of audio and/or video content over an IP network to a PC or other playback device in such a way that the distributor can control how that content is used.
---
Burn WMA to CD with foobar2000 freeware
foobar2000 is a freeware audio player for Windows developed by Peter Pawlowski, a former freelance contractor for Nullsoft. It is known for its highly modular design, breadth of features, and extensive user flexibility in configuration. The foobar2000 supports additional audio formats such as APE, HDCD, AC3, DTS, SACD, DVD-Audio. The freeware burn WMA to CD as well.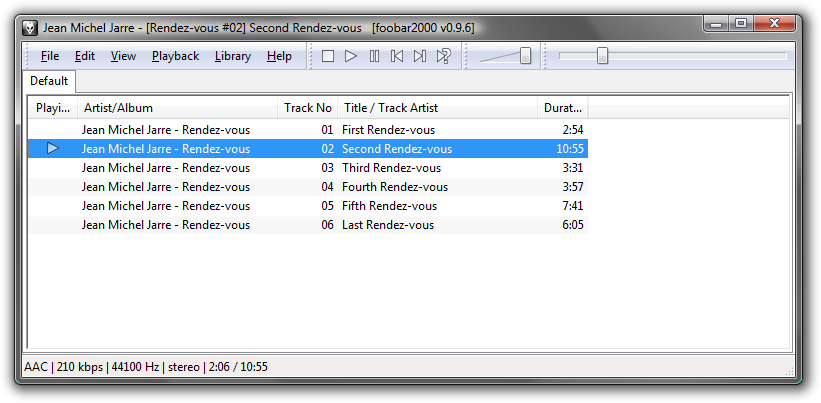 To enable foobar2000 to burn audio CD, you need to install a free component. It's Audio CD Writer.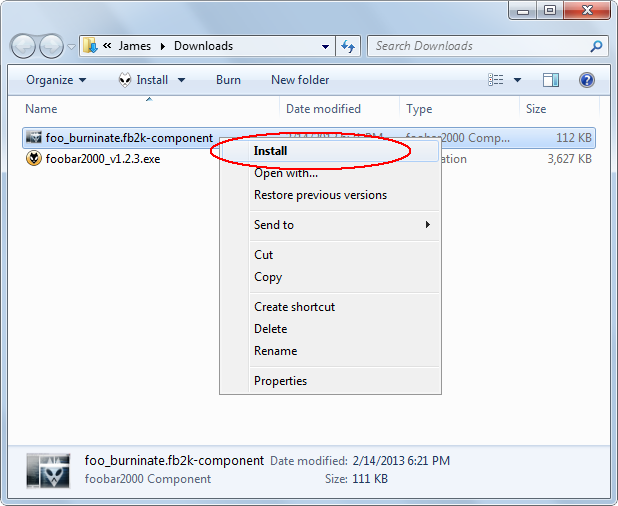 After download completes, please install the component by right-clicking the file and choosing "Install".
Download and install foobar2000 freeware and Audio CD Writer component
Launch foobar2000 freeware
Click menu File -> Add files




Choose WMA files and then click Open




Adjust sequence of WMA files if necessary
Select the WMA files you want to burn to CD, and then right-click on the items and choose Convert -> Write audio CD




Insert an empty CD-R or CD-RW disc to CD burner or CD Writer drive
click OK to burn WMA to CD




Done
foobar2000 freeware runs on Windows 8, Windows 7, Windows Vista, Windows XP, and Windows 2000, both x86 and x64 editions compatible.